Another year down, and MAN what a year it's been.. The Gremlins turned 3, Hubby has been home for the holidays, we've moved, picked up bad habits and dropped a few along the way.. lol. So, what makes this coming year different? NOTHING.. Hey I'm being honest.
YEAH... I'm such a happy chipper Blogger... Bwahahahahaha Folks might say I'm a Glass 1/2 empty kind of gal... I say YES I am, but glad I have the BEST hubby in the world, whenever I get all glass 1/2 emppty. hecomes along and tops off my glass with Vodka... bwahahahaha
I usually don't make resolutions, and why? because it just feels like a to do list to me.. as a matter of fact the only thing I can say I'd like to accomplish in the new year is...
Lose weight.. (have been trying to do it for years, and doubt the last 45lbs are gonna be gone before 2012)
Get out of debt... (YEAH RIGHT!!! But I can try to do better, as I've been trying for years, and will for years to come.. Cycle of life.. lol)
Be the best mom I can be... (Shouldn't I be doing that ANYWAYS? and for the REST of my life?? )
Bwahahahahaha See what I mean??? Well This year I guess I WILL promise myself to make a more conscious effort to implement the needed strategy to accomplish getting closer to my goals..
Do you make resolutions? Do you keep them?
Would you be willing to participate in a little challenge? I'm thinking if you'd like to participate in reSolution Sundays... Where every Sunday we update on how our resolutions are coming along.. I think if we are held a little accountable, we'd be more likely to do better at keeping them...
If you want to participate, feel free to add the badge and link up so others can see how you have accomplished your goals.. We can ALL use some pointers from each other..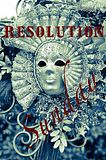 GOOD LUCK!!!!


Sincerely,